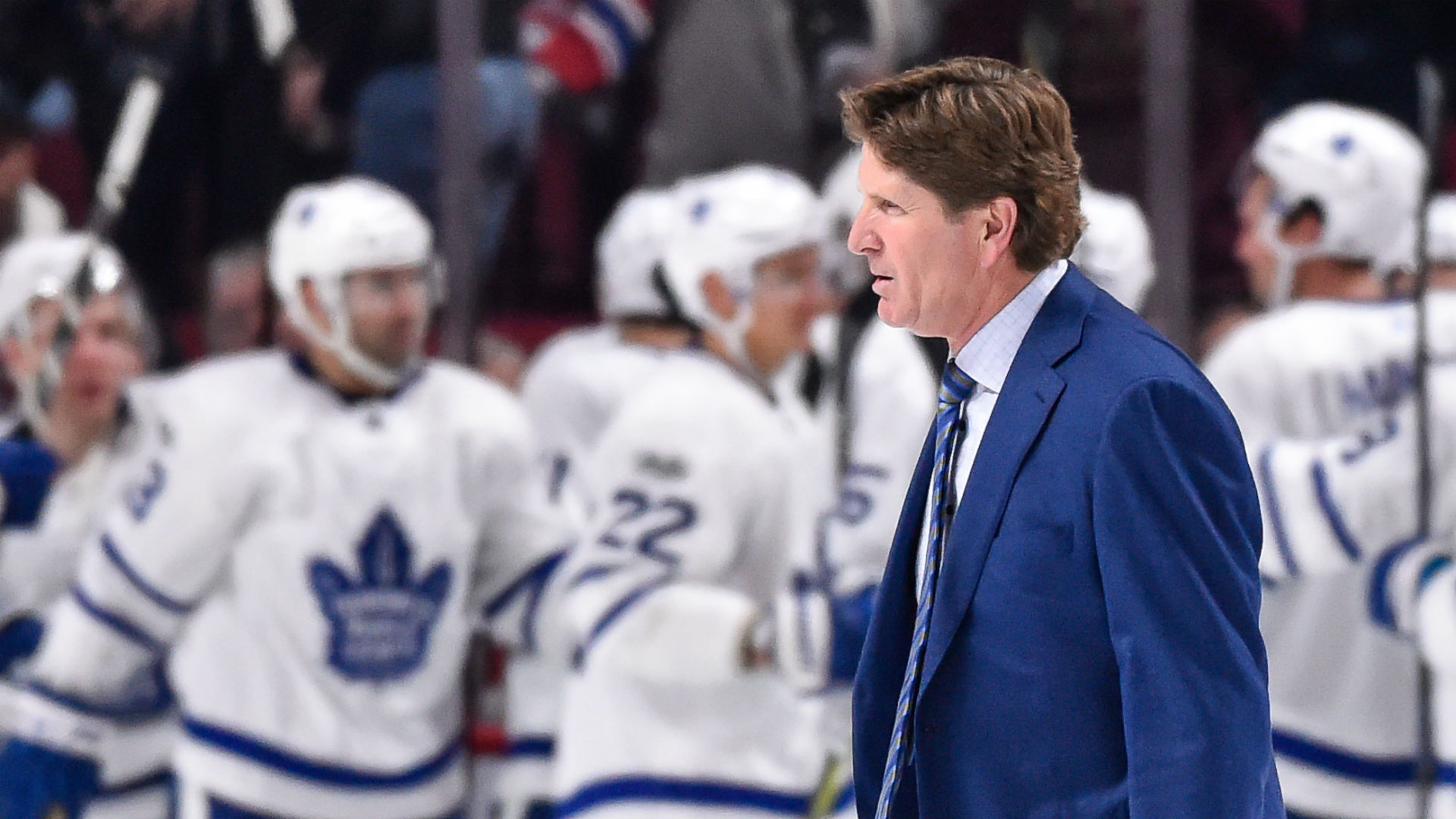 That noise you hear? It's the sound of a thundering locomotive known as the Maple Leafs' hype train that picked up a full head of steam Friday when bookmakers in Las Vegas installed Toronto as the odds-on favorite to win the Stanley Cup this spring.
Indeed, if the NHL regular season ended today, you'd be hard-pressed picking against the high-flying Maple Leafs in the playoffs.   
Fortunately, Mike Babcock is here to rain on the premature Stanley Cup parade. Or at least attempt to serve as a voice of reason, tasked with the ever-difficult responsibility of keeping his young Leafs grounded in October and henceforth, lest they derail before accomplishing much of note when it actually matters.
POWER RANKINGS: Maple Leafs keep No. 1 spot for second week
"All of that stuff is fluff," Babcock told reporters Friday, responding to Toronto's 6-1-0 start that has a faction of the long-suffering center of the hockey universe obviously thinking rational thoughts. "I've coached lots of good teams. One that won the Presidents' Trophy, one that tied for the Presidents' Trophy, and they didn't win the Cup. It's hard to win the Cup. It's darn near impossible, so let's not worry about that.
"Let's try to get in the playoffs."
It's easy to get swept up in the hype. The Leafs are a flashy, fast-living bunch, one that leads the league in scoring at 4.86 goals per game. The defense and goaltending hasn't met the same standard, but that's easy to overlook when they're regularly finding the net four, five, six times, beating the likes of the Blackhawks and Capitals so far.
MORE: Ripe with individual talent, Maple Leafs' social focus is on team
Leading the charge is Auston Matthews, their 20-year-old budding superstar who has looked every bit ready to launch his MVP campaign on the heels of becoming the NHL's rookie of the year, providing timely, jaw-dropping goals equal to the Sidney Crosbys and Connor McDavids of the world. Have you heard? In 89 games, Matthews' 46 goals are only a couple off the pace of McDavid's 49 in … 132 games. (For kicks, Crosby got to 45 in 90 games.)
Hockey Hall of Famer Mike Modano anointed Matthews as the next all-time great American scorer in an interview with Sporting News Canada.
Plenty of other awed onlookers, like the Bruins' Brad Marchand, have been happy to fan the flames. 
At what point do that @MapleLeafs have to start playing Matthews 1 vs 5 to make it fair for other teams??

— Brad Marchand (@Bmarch63) October 20, 2017
To that, Babcock had to reach back deep into his bag of buzzkill.