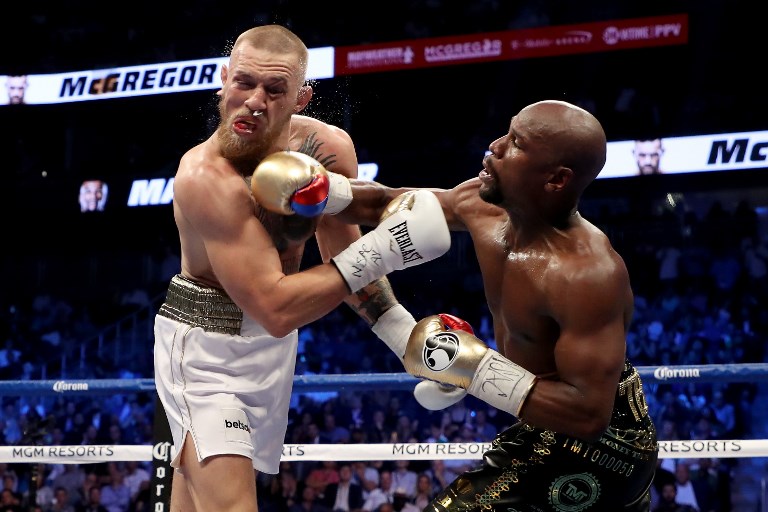 The fight of the century went down over the weekend, as boxing legend Floyd Mayweather Jr. kept his record unblemished at 50-0, turning back a very game adversary in Conor McGregor.
READ: 50-0: Floyd Mayweather stops Conor McGregor in 10th round
However, not every sports fan managed to watch the fight on pay per view (PPV) and resorted to illegal streams online.
According to a report form Forbes, digital platform security company Irdeto estimated that 2,930,598 people illegally watched the fight on various social media platforms via 239 illegal streams.
Plenty of unwarranted videos were shared on Facebook, YouTube, Periscope and Twitch last Saturday (Sunday in Manila), while ads for the illegal streams were promoted on sites like Alibaba, eBay and Amazon.
Other viewers, meanwhile, depended on "digital Robin Hoods"—or generous fans who purchased the fight and videotaped it live through their television or computers.
On the other hand, Facebook did its part to stop videos from spreading by taking down live streams of the fight.
However, the social platform still could not keep up with the number of users, as some videos managed to be streamed live up until the end of the fight.
Despite the massive number of illegal streams, the Mayweather versus McGregor fight is still expected to break PPV sales. As of this writing, official PPV numbers have yet to be released.  Khristian Ibarrola /ra
RELATED STORY:
Canelo-GGG to MayMac fans: We've got a real show for you