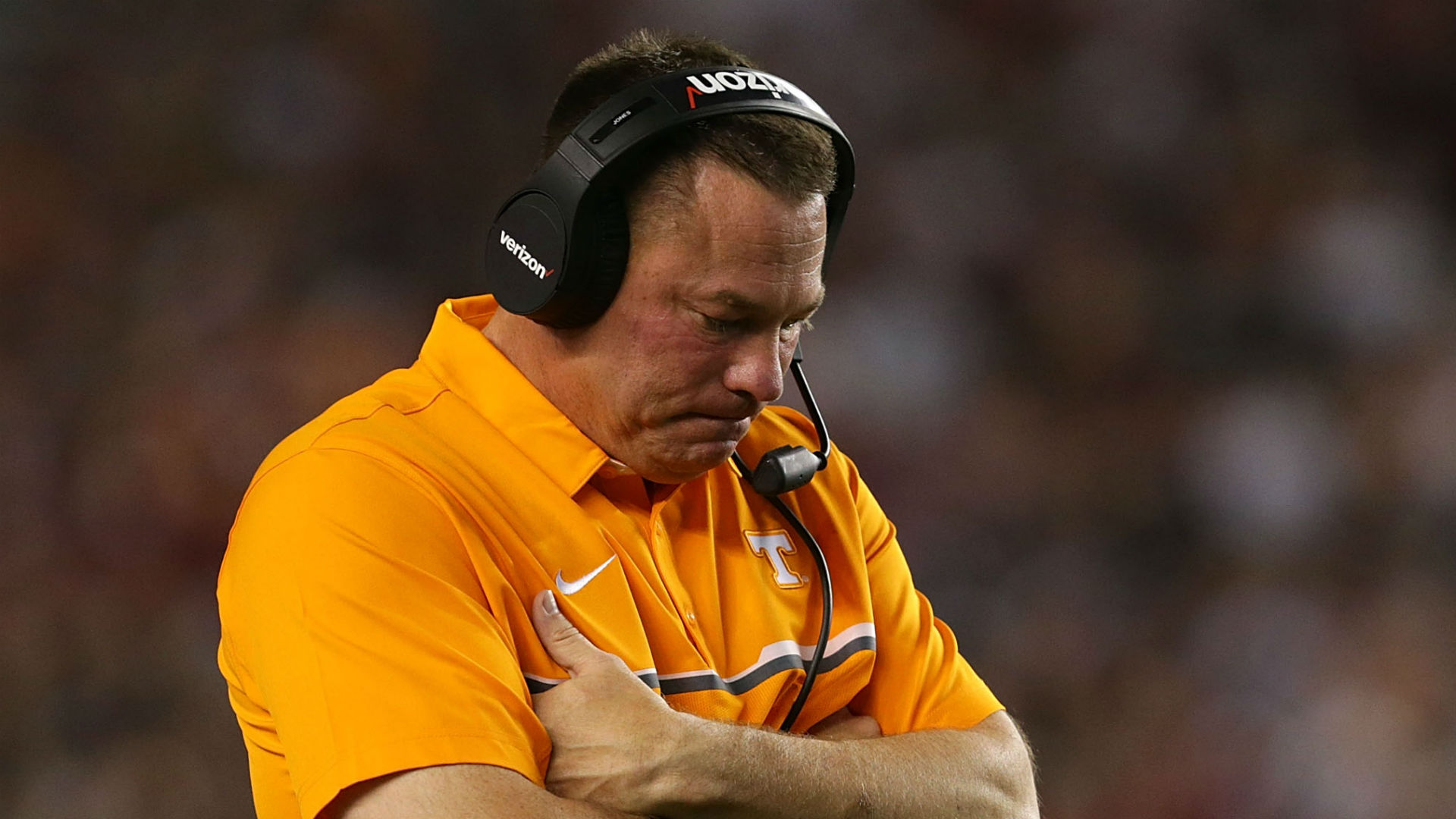 Butch Jones is out at Tennessee.
The Volunteers coach has been fired following the team's 50-17 loss at Missouri on Saturday, the school announced Sunday.
Fox Sports first reported that Jones notified his staff of his release earlier Sunday. According to Jimmy Hyams of Sports Radio WNML, Jones was given the option to coach Tennessee's final two games but declined.
"I would like to emphasize how much I appreciate Butch and Barb Jones and their sons, Alex, Adam and Andrew. The Jones family has poured their heart and soul into this Tennessee football program and the Knoxville community," Tennessee athletics director John Currie said in a statement. "We have been fortunate to have Coach Jones lead our program for the last five years. During that time, the program has improved tremendously in the areas of academics, discipline and community involvement.
 
"Unfortunately, we are not where we need to be competitively. For that reason, I have asked Coach Jones to step down as head football coach. I know Coach Jones will be successful moving forward, and we wish him all the best in his future endeavors."
The move comes as no surprise, as fans have been calling for the fifth-year coach to be canned due to a dissappointing 4-6 start to the season after back-to-back nine-win seasons in 2015 and 2016. Tennessee also lost all six of its conference games this year, including five consecutive losses.
Shortly after Florida coach Jim McElwain got the boot last month, Vols fans took to Twitter to start an #EmptyNeyland campaign that prompted fans not to show up to any Tennessee home games at Neyland Stadium until Jones was fired.
Jones, who turns 50 in January, accumulated a 34-27 overall record during his time with the Vols and will be owed an $8.125 million buyout.
Brady Hoke will serve as interim coach as the Vols begin their search for Jones' replacement.
"An exhaustive search is underway for a person of the highest integrity and character with the skills and vision to propel Tennessee to championships," Currie added. "This search will be my sole focus, and I will be in regular contact with Chancellor Davenport. I want to make clear that we are intensely committed to hiring the best coach for Tennessee."
Tennessee will close its regular season with two home games against LSU at 7 p.m. ET on Saturday and Vanderbilt on Nov. 25.