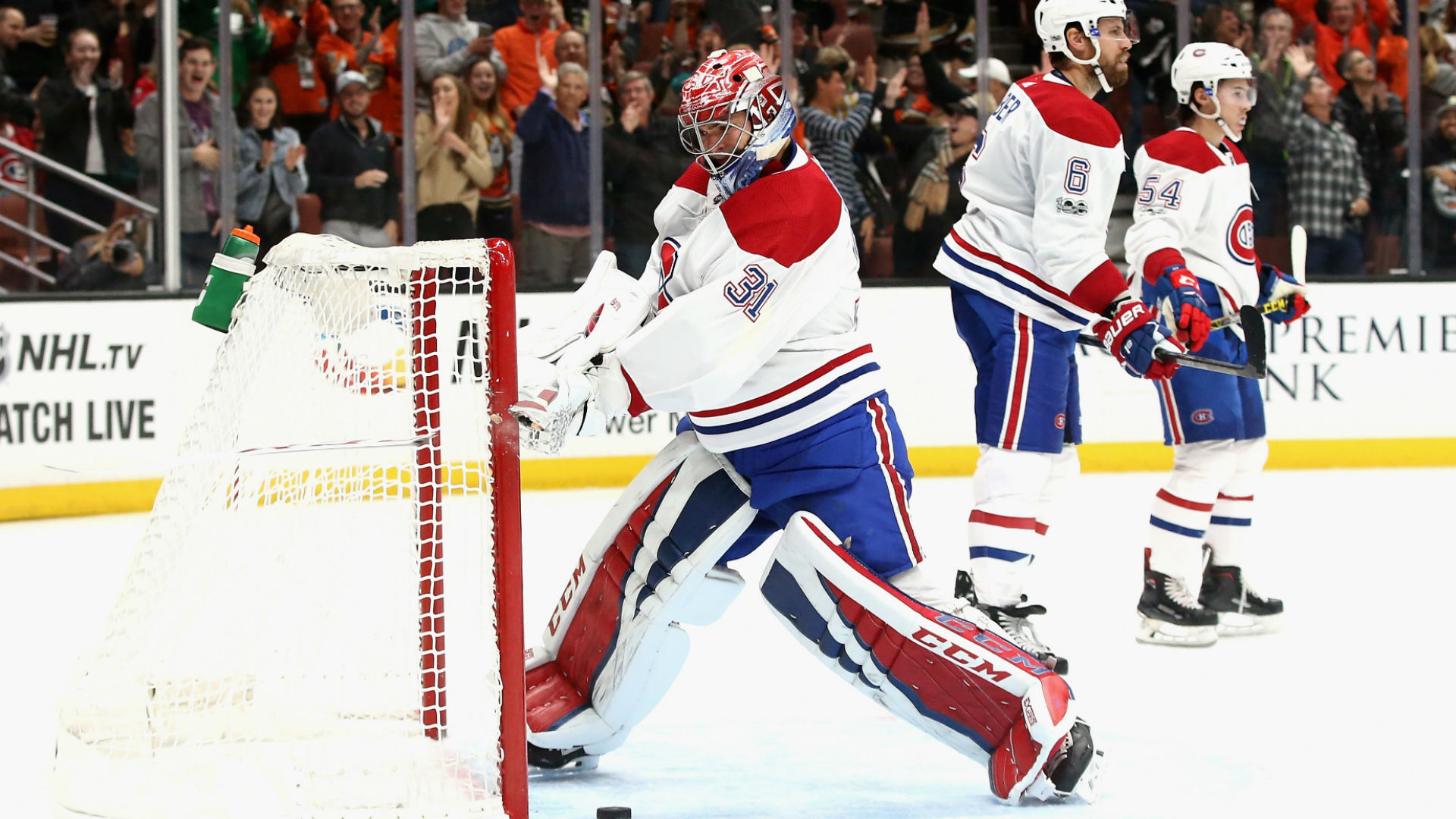 The Canadiens' West Coast road trip from Hell ended mercifully Friday with a normally even-keeled Carey Price turning into a poster boy for the mockery, squaring up his goal post and taking a Major League-worthy hack to split his stick in two.
The mood is uneasy in Montreal, to put it mildly. 
POWER RANKINGS: Rangers, Habs in a free fall
A 1-6-1 record — the franchise's worst eight-game start to a season since 1941-42 — will do that, and frustration was the cliche of choice in the Habs' locker room following the 6-2 loss to the Ducks, their seventh in a row to a cap a three-game California trip on which they were outscored 16-5.
"It's very high, not going to lie," Canadiens coach Claude Julien said. "But at the same time, as frustrated as I am, I'm the one who's got to find some solutions here and turn things around. So I'll have to stay the course here and find that solution."
Good luck. Nothing can go right for the Habs right now.
Not only are they struggling to stop the bleeding while Julien finagles his defense pairings, the offense isn't doing Price and Co. any favors with a putrid 12 goals — leading to a goal differential of minus-21. On Friday, the Habs fell into a 3-0 first-period hole, then came out in the second and peppered Ducks goalie John Gibson with 30 shots on goal, a Montreal record for a single period. Gibson stopped 28 of them, also setting a Ducks franchise mark, and still the Habs trailed.
Any progress Montreal made in the second came undone during a 97-second stretch in the third period, when Brandon Montour, Derek Grant and Chris Wagner all beat Price to give the Ducks their 6-2 lead and eventual victory, despite the Habs finishing with 51 shots themselves. 
Wagner's goal, the last of the night with 7:35 gone in the third, was the one that set the mild-mannered netminder over the edge. 
"I don't know a human on earth that wouldn't be frustrated at this point," said Price, whose early .881 save percentage through seven appearances is about 40 points below his career average. "I think the biggest thing right now is to move on once we leave this rink."