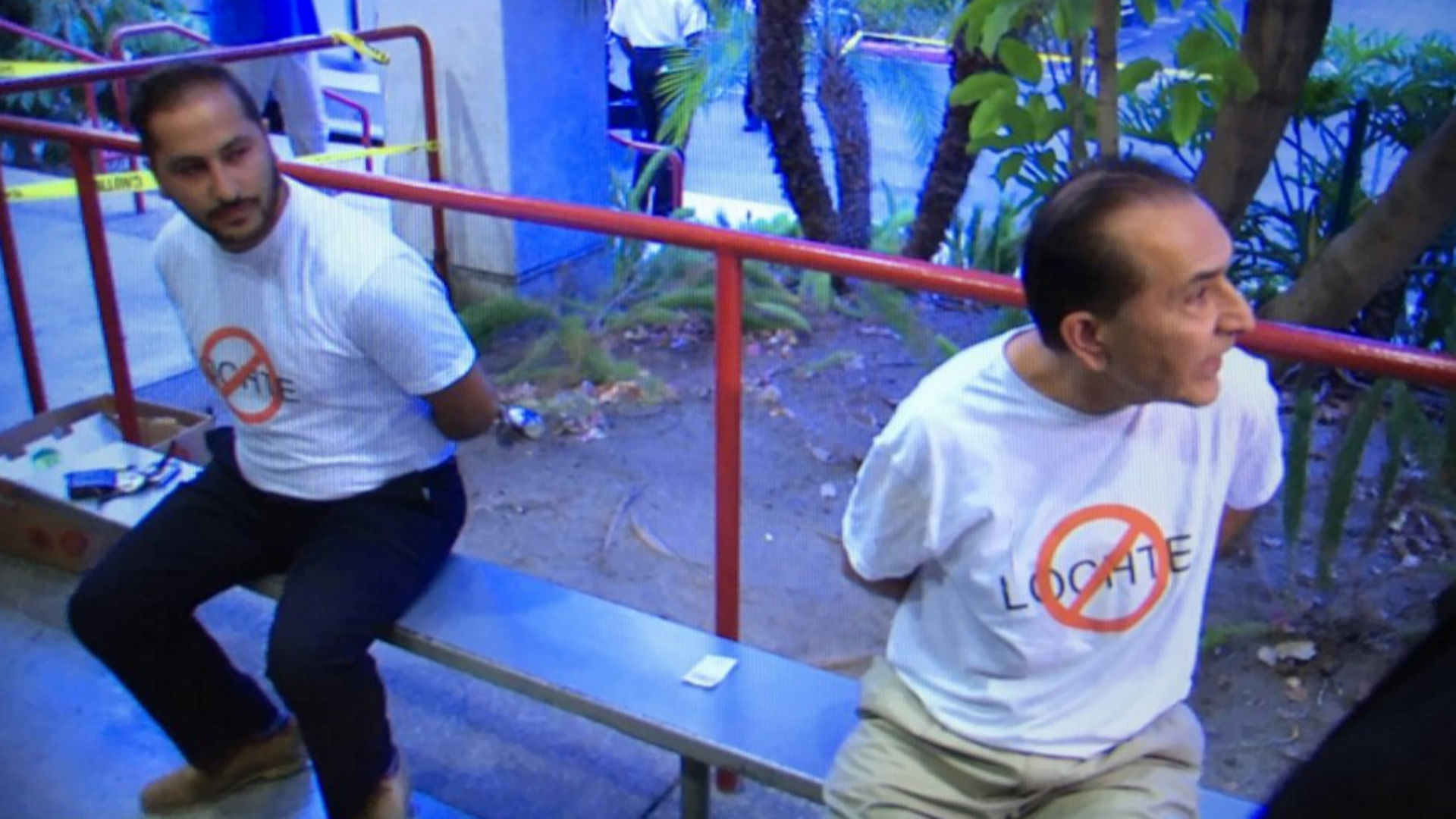 The two men who rushed the set of "Dancing with the Stars" to protest American swimmer Ryan Lochte claim they did so with peaceful intentions.
Sam Sotoodeh and Barzeen Soroudi were released from a Los Angeles jail Tuesday morning after posting $1,000 bail apiece. Both maintained they did not plan to physically harm the 12-time Olympic medalist, who is a contestant on the ABC reality show, but felt compelled to make an example of Lochte's "embarrassing" actions during the Rio Games.
MORE: Athletes in reality shows
"Our purpose is to get the message out that Lochte is a coward, a liar and, under Brazilian law, a criminal," said Sotoodeh, 59, via E! News.
Soroudi, 25, said the men were angered the Walt Disney Co., which produces the show, would "reward" Lochte after he admitted to fabricating a story about being robbed at gunpoint while in Brazil with three of his U.S. swimming teammates.
"I want the world to know, I want America to know, that we don't take what he did lightly," Soroudi said. "He embarrassed Americans on the world's stage and this was our form of protesting."
On Monday, during the live season premiere of "Dancing with the Stars," Sotoodeh and Soroudi stormed the stage following the completion of Lochte's routine with dance partner Cheryl Burke. The incident happened off screen and the two men, wearing T-shirts with Lochte's name crossed out, were tackled to the floor by security personnel before they could advance further.
MORE: Lochte angry media took story to 'whole new level'
Lochte, startled but unharmed, told host Tom Bergeron following a commercial break he was "doing good. So many feelings are going through my head right now. A little hurt." The 32-year-old swimmer is serving a 10-month suspension from USOC and USA Swimming because of the incident in Rio; he has said he hopes his participation on the show helps to rehabilitate his public image.
He posted a statement to Twitter on Wednesday thanking fans for their support.
#DWTS #family #dancingwiththestars https://t.co/DsWItFtiHg pic.twitter.com/p2tDxN7NPl

— Ryan Lochte (@RyanLochte) September 14, 2016
Sotoodeh and Soroudi said they were upset over the amount of force used by security in apprehending them for a "non-violent protest." They are due to appear in court Oct. 4.
A "Dancing With the Stars" representative said the studio is undergoing "a full evaluation of security procedures."