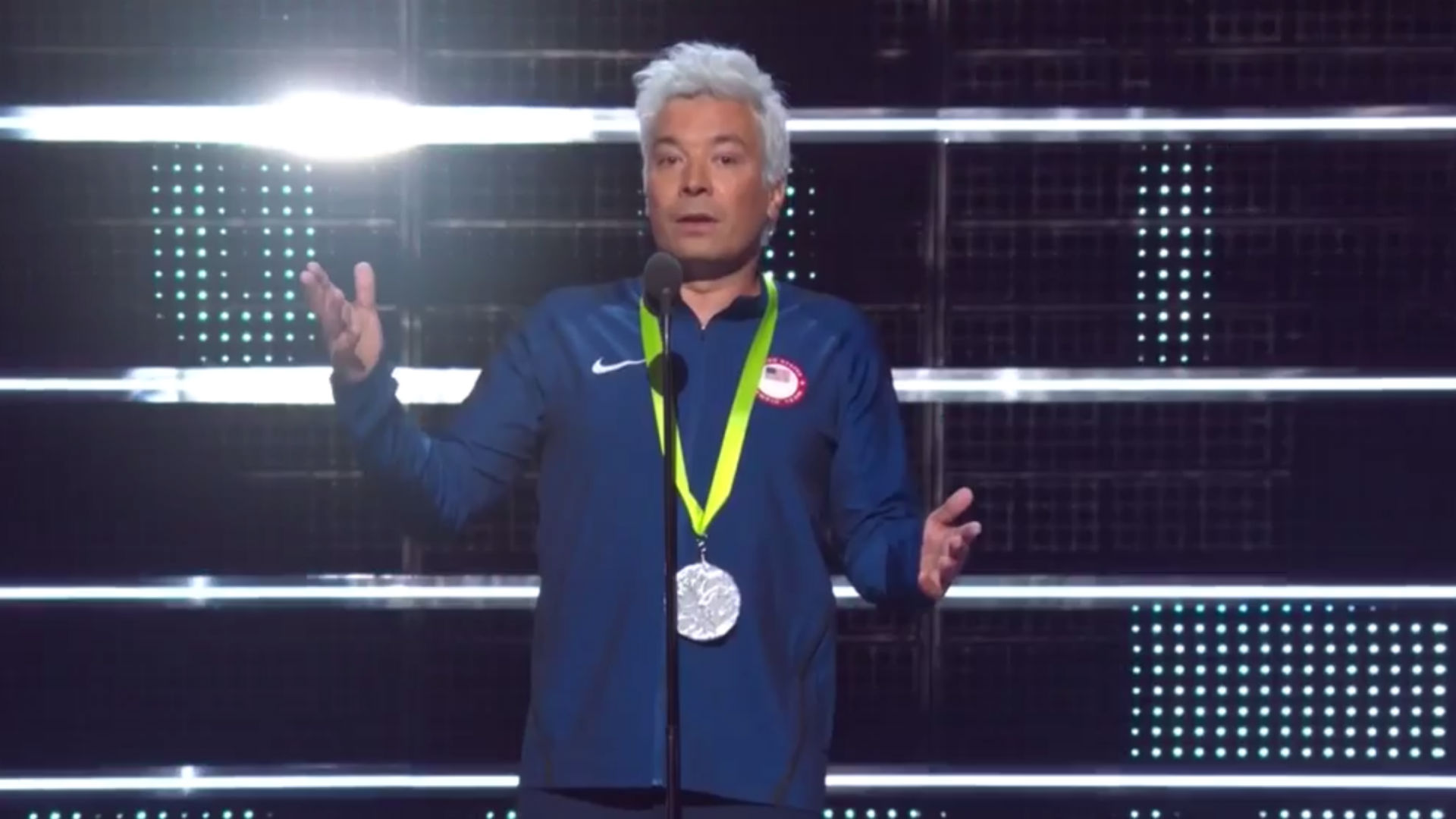 Imagine Ryan Lochte settling in for a quiet evening at home Sunday. He wants to clear his mind and avoid all the drama surrounding the charge of falsely reporting a robbery while in Brazil during the Olympics. Let's turn on the TV, he thinks. Hey, wonder what's happening at the Video Music Awards on that cool MTV channel, bro! Jeah!
Then, out comes Jimmy Fallon looking exactly like Lochte.
MORE: Ranking the most dominant American athletes from the Rio Games
"The Tonight Show" host presented the Video of the Year award sporting a silver medal and Lochte's platinum-off-white-dumb hairstyle. Fallon spit out a number of lies as Lochte (he wrote Justin Bieber's hit "Sorry," directed all of the nominees' videos, taught Drake the "Hotline Bling" dance, etc.), but he finally got a reaction from the crowd with his final zinger.
"I can't tell you (who had the best video of the year)," Fallon said. "They're all so great and so talented, I could never choose. I couldn't tell you, even if there was a gun to my head."
Ouch.
"I couldn't tell you even if there was a gun to my head." 🙊#VMAs https://t.co/L55barVLKU

— MTV (@MTV) August 29, 2016
WATCH: John Oliver crushes Ryan Lochte
Just to rub it in a little bit more, Lochte's teammate and gold medal hoarder Michael Phelps seemed to be enjoying every minute of it.
Same, Michael Phelps. Same. #VMAs https://t.co/OxP4n0q1f3

— MTV (@MTV) August 29, 2016
#MichaelPhelps is all of us when Jimmy Fallon came out #VMAs2016 #vmas pic.twitter.com/39z6vIw0aZ

— иσєℓℓє (@nolliebeatsLOVE) August 29, 2016
Sorry, Ryan. This joke train is going to keep chugging along.