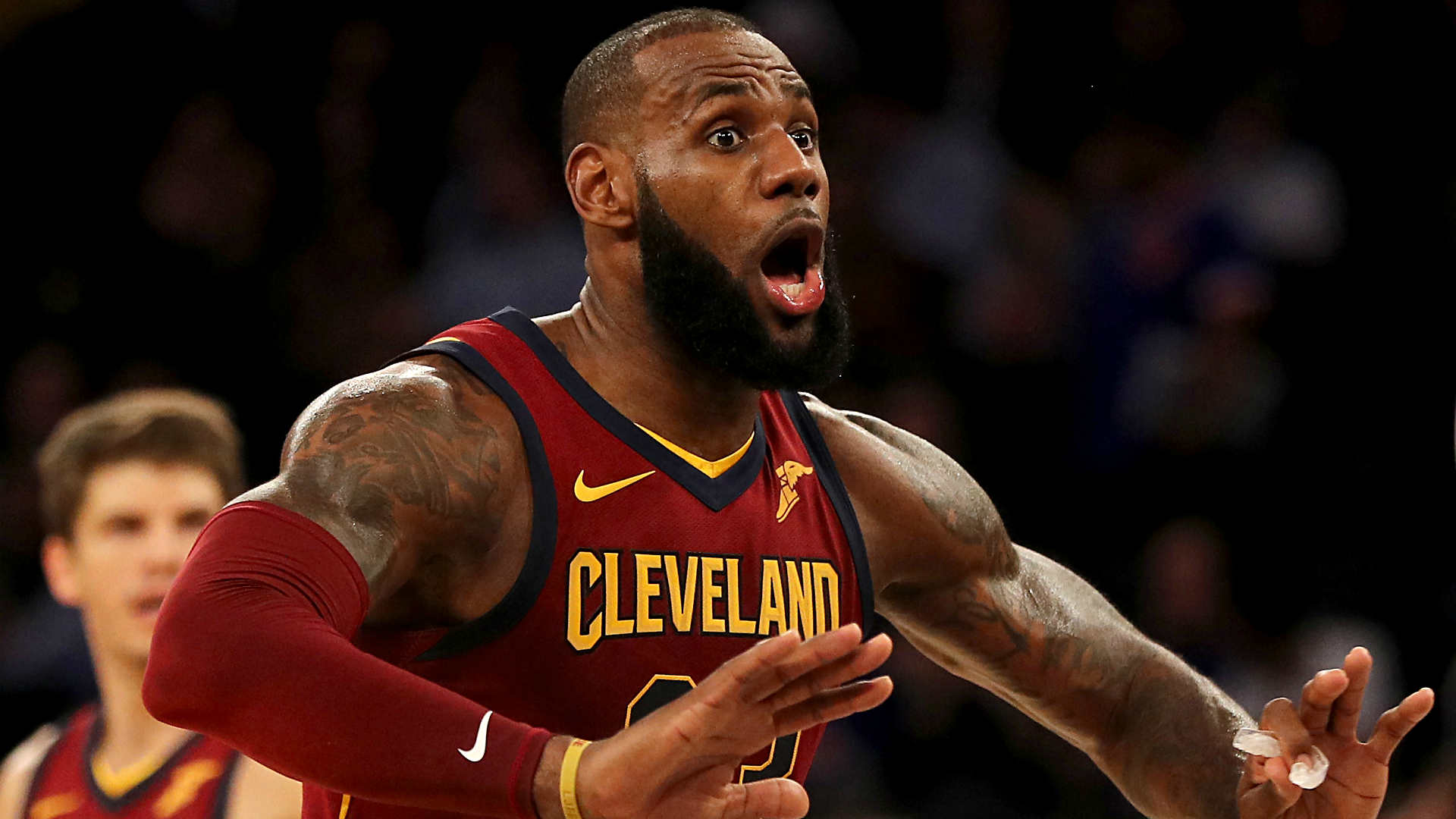 When it's November but your season really doesn't start until April, maintaining intensity can be a chore. LeBron James is finding the task easier this November.
One reason is his team is a work in progress. Cleveland got back to .500 (7-7) on Monday with a 104-101 comeback win over the Knicks. James has been playing a lot during the struggle; he came in leading the league with 38.3 minutes per game.
Another reason is he has been able to continue his beef with the Knicks and Phil Jackson. That alone will get his juices flowing.
Based on how Monday's game at an extra-hostile Madison Square Garden went down, it's looking like the past three days were LeBron's version of 3-D motivational chess, and checkmate was a dagger 3 over the Knicks' best player.
LeBron didn't plan on having to complete a Cleveland rally from a 23-point second-half deficit, or on being taken out unexpectedly in the third quarter by coach Tyronn Lue. But it's not unrealistic to think he issued himself a challenge two days before the encounter by telling the world Jackson was wrong to take Frank Ntilikina over the Mavs' Dennis Smith Jr. in this year's NBA Draft. 
And if James wasn't deliberately producing heat, there was still the matter of avenging the Cavs' lethargic home loss to the Knicks two weeks earlier. The return match was in the Garden, the place people begged him to make his home in 2010 (and have ever since), and the place where he loves to show out. 
POWER RANKINGS: Defense keeping Cavs down toward bottom
If he did have a plan, it began to come together when the Knicks took his bait. Ntilikina shoved him twice after James bumped the rookie following a first-half dunk. Enes Kanter rushed in to provide backup, which was serendipitous (or was that anticipated?) because James and Kanter trash-talked before the game. (The two had a glorious exchange after the game, too).
Once Cleveland made the game competitive again (thanks to Kyle Korver's five 3-pointers in the fourth quarter), James had a chance to make the finishing move.
After a Ntilikina turnover, James was matched up against Kristaps Porzingis on the left wing outside the arc. Bron could have blown by the Unicorn the same way he blew past a washed Dirk Nowitzki in Dallas on Saturday. Instead, he milked the shot clock, stepped back and… 
👑 @KINGJAMES FOR THE LEAD! pic.twitter.com/ahpolN2ImX

— Cleveland Cavaliers (@cavs) November 14, 2017
Ball. Game. (Ignore the two free throws he missed at the end that would have iced the victory.) James had created another Garden moment, earned another win, accepted and met another challenge.
"I knew we had another half," James told reporters of his team's 13-point deficit at the break. "Didn't know that I was going to get snatched like that early in the third, but I felt if I got back in I could still make some plays to help our team win."