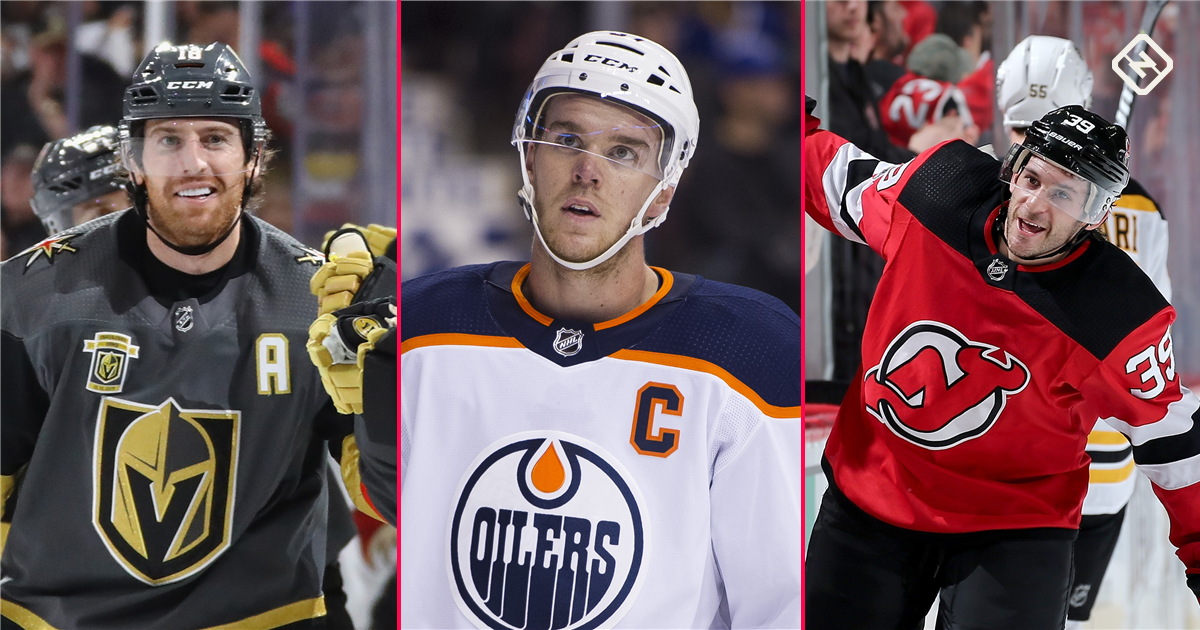 Is it possible to predict the NHL playoff field in November? Not exactly, but that hasn't stopped the practice from becoming a league-wide tradition in the last decade as each season reaches its all-telling U.S. Thanksgiving landmark.
Since the salary cap came into play in 2005-06, teams in a playoff position on the fourth Thursday in November have gone on to make it 77.8 percent of the time, according to calculations by our friends at Opta Sports. Over that span, on average, fewer than four teams out of playoff contention at this time of year reverse their fortunes in time to make the Stanley Cup playoffs. Last year, it turned out 14 of the 16 playoff teams were in place by Nov. 24.
While incomplete, the data is compelling enough to serve as a snapshot to project standings come April. So how does it apply to the 2017-18 season?
MORE: Inside the NHL's goal-scoring surge: Coincidence or a new normal?
Thanksgiving arrived early this year, but every team has played in at least 20 games. And it's been a topsy-turvy start with more parity than has been seen in recent seasons. Entering the holiday break, the Eastern Conference's top 12 teams were separated by just eight points. It's even closer out West, with 12 teams separated by five points.
What's more: Half of last year's playoff teams are currently out of a playoff position. The Atlantic-leading Lightning missed the postseason all together in 2016-17, while the Pacific's first-place Golden Knights hadn't yet come into existence. 
All this is to say the Thanksgiving rule this season has the potential to see greater-than-average turnover. With that in mind, we used the data from the last 11 seasons to examine which surprise teams should be a playoff lock while other underachieving preseason favorites face statistically unfavorable odds to overcome their slow starts. 
AWARDS WATCH: Lightning teammates emerge as co-MVP front-runners
Eastern Conference
Atlantic Division
1. Tampa Bay Lightning, 34 points
2. Toronto Maple Leafs, 29 points
3. Detroit Red Wings, 23 points
—
4. Boston Bruins, 22 points
5. Ottawa Senators, 22 points
6. Montreal Canadiens, 19 points
7. Florida Panthers, 18 points
8. Buffalo Sabres, 14 points
Lock 'em in
Lightning — The dynamic duo of Steven Stamkos and Nikita Kucherov have the Lightning in an enviable position with their white-hot 16-3-2 start to the season. Since 2005-06, only three teams (the Canadiens in 2015-16 and Wild in 2010-11 and 2011-12) fell out of playoff favor after entering Thanksgiving with the NHL's top point total. It would take a catastrophic injury to one of Tampa's MVP candidates to initiate such a precipitous fall. 
MORE: Steven Stamkos is back and might be better than ever
Biggest surprise
Red Wings — Anthony Mantha (10 goals, 19 points) and Dylan Larkin (16 assists, 20 points) are 1-2 in team scoring through 20 games. The leaders of the Red Wings' youth movement have helped mask deficiencies on defense that remain from last season. The 10-9-3 start has been nice, but when the scoring wanes and Jimmy Howard's .923 save percentage inevitably slips, we'll see the reasons why many picked Detroit to finish last in the Eastern Conference this season.
Time to worry
Canadiens — Hoo boy, this team is a mess. Montreal limped into Thanksgiving on a five-game losing streak, which isn't even its longest of the young season. Its most important player hasn't dressed since Nov. 2 and the blueline has been anemic with Shea Weber, let alone without. The Habs hope this nightmare start will sort itself out when Carey Price gets healthy, but he can't score goals and patience isn't exactly a virtue in Montreal. Trade rumors are already heating up. 
MORE: Who's next? Eight more players who could be traded this season
Metropolitan Division
The Metro is tricky. Eight points separate its first- and last-place teams. If there's a division that'll see significant disruption in order between now and April, this is it. 
1. Columbus Blue Jackets, 29 points
2. New Jersey Devils, 28 points
3. New York Islanders, 26 points
4. Pittsburgh Penguins, 25 points
5. Washington Capitals, 25 points
— 
6. New York Rangers, 24 points
7. ​Carolina Hurricanes, 22 points
8. Philadelphia Flyers, 21 points
Lock 'em in
Penguins — The repeat Stanley Cup champions have looked like a shell of their usually awesome selves at times through an 11-9-3 start. There is some cause for concern (their 3.43 goals-against average is on par with bottom-dwellers Arizona, Buffalo, Montreal and Florida), but Pittsburgh is scoring just 2.65 goals per contest despite ranking second in shots. It's only a matter of time until the equilibrium is restored and the Pens round into form. 
SN EXCLUSIVE: Ray Shero talks Devils' turnaround, Taylor Hall's evolution
Biggest surprise
Devils — Thanks to an accelerated rebuild, the Devils are the best candidate to serve as the 2017-18 version of the Maple Leafs. They held first place in the NHL's toughest division for the better part of November and have built up a nice points cushion along the way, thanks to breakout rookies Nico Hischier, Will Butcher and Jesper Bratt. If injuries don't derail the momentum, watch for New Jersey to make some noise all season.
Time to worry
Hurricanes — Carolina was a popular pick to unseat a playoff holdover and end their own eight-year drought. Instead, goals have been difficult to come by, their special teams units are struggling and new No. 1 netminder Scott Darling hasn't adjusted well to the full-time workload. The Canes could use another top-six forward before getting serious about the postseason.
WATCH: Hurricanes' Scott Darling gives up hilariously bad goal
Western Conference
Central Division
1. St. Louis Blues, 33 points
2. Winnipeg Jets, 29 points
3. Nashville Predators, 28 points
—
4. Colorado Avalanche, 23 points
5. Chicago Blackhawks, 23 points
6. Minnesota Wild, 23 points
7. ​Dallas Stars, 23 points
Lock 'em in
Blues — What a renaissance it's been for the bruised-but-not-beaten Blues, who have the look of a serious Stanley Cup contender despite the preseason injuries that were supposed to derail their chances. A top-line trio of Vladimir Tarasenko, Brayden Schenn and Jaden Schwartz might be the best in hockey right now. Alex Pietrangelo is playing like a Norris Trophy finalist, if not favorite. And the returns of Patrik Berglund, Jay Bouwmeester and, eventually, Zach Sanford will only work to further fortify their ranks.
MORE: Matt Duchene return gives Avalanche much-needed direction
Biggest surprise
Avalanche — Now that the Matt Duchene-sized gorilla is out of the locker room, the Avalanche have wasted no time moving on. Led by Nathan MacKinnon (17 points in November) and Gabriel Landeskog (six goals in nine games), Colorado has gone 3-2-1 since trading Duchene, including wins over Washington and Dallas. This doesn't mean the Avs are a playoff team, but 2016-17 is a distant memory.
Time to worry
Stars — When general manager Jim Nill went on his offseason spending spree, last place in the Central wasn't what he had in mind. Dallas is operating in the red in goal differential (minus-4) through its disappointing 11-10-1 start. That's an odd place to be for a Ken Hitchcock-coached team, especially one with so much high-end talent. It's on Ben Bishop's shoulders, too (.908 save percentage).
MORE: Winners, losers from the Matt Duchene-Kyle Turris trade
Pacific Division
1. Vegas Golden Knights, 27 points
2. ​Los Angeles Kings, 26 points
3. Calgary Flames, 25 points
4. Vancouver Canucks, 25 points
5. San Jose Sharks, 23 points
—
6. Anaheim Ducks, 23 points
7. Edmonton Oilers, 18 points
8. Arizona Coyotes, 13 points
Lock 'em in
Flames — A whole lot has gone right for the Flames in their 12-8-1 start. Johnny Gaudreau is third in the NHL in points, the lockdown defense duo of Dougie Hamilton and Mark Giordano is one of the league's most dominant, and a resurgent 35-year-old Mike Smith appears to be the answer in net. Calgary has its imperfections, but in a wide-open Pacific Division where every team has shown major flaws, odds are good the Flames make a playoff return.
MORE: Johnny Gaudreau earns full marks for MVP-like start
Biggest surprise
Golden Knights — The darlings of the NHL continue to defy expansion team odds and expectations. On Wednesday, they improved to 13-6-1 — the best record in history during a franchise's first 20 games. We've been waiting for the regression, but a sterling 8-1-0 mark at T-Mobile Arena put the Golden Knights in first place at Thanksgiving. All but three such division leaders have gone on to make the playoffs since 2005-06. Maybe it's time to believe?