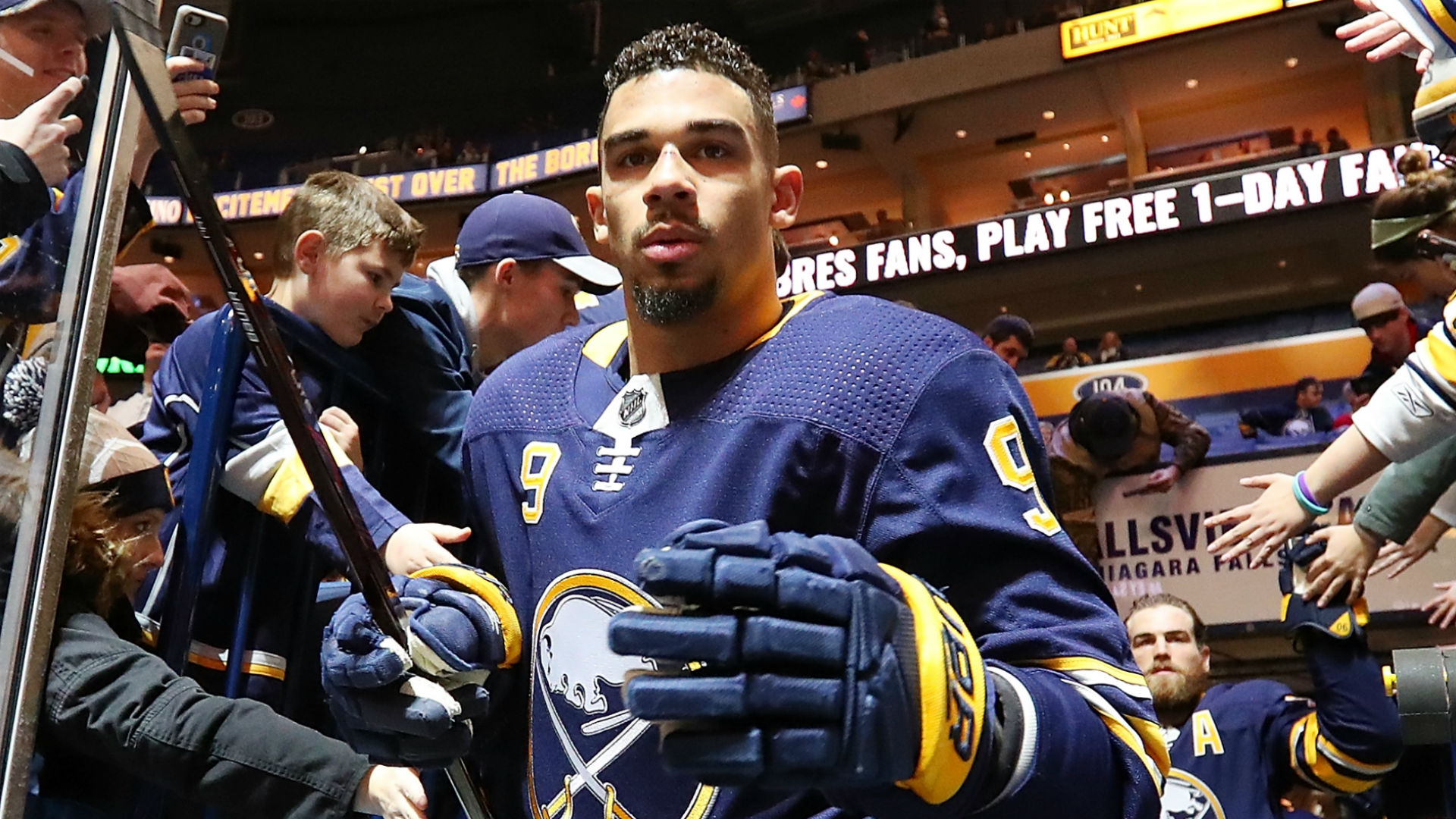 As the sagging Sabres sink to new depths in the NHL standings, it's difficult to point out where, exactly, rock bottom awaits. Very little has gone right for a team expected to make strides forward in 2017-18. And with 10 wins out of 43 games, Buffalo's season is mostly a lost cause except to trade off the veterans and look toward the offseason.
Frustration set in long ago, but it came to a head publicly Wednesday during a practice altercation between Sabres winger Evander Kane and defenseman Justin Falk.
MORE: Even Jack Eichel's breakout season can't fix broken Sabres
Following a 7-4 home-ice drubbing by the Jets the night prior, Falk lashed out against Kane while the two were running a drill.
The Olean Times-Herald detailed the exchange, which wasn't caught on video:
"Shut the (expletive) up, you selfish (expletive)," Falk yelled as he skated at winger Evander Kane on the KeyBank Center ice.

Falk then shoved Kane before some coaches intervened.

Clearly, the Sabres' wretched 10-win season has ignited emotions. About 30 minutes after the incident, Falk, who was battling Kane in front of the net, was still riled up.
"To be quite honest I think it's healthy," Falk said, via Buffalo's WGR 550. "We're pushing each other, we're honest with each other, we're up front with each other, there's no B.S. behind anything and that's just the way you have to have it.
"It was the heat of the moment, it boiled over. To be honest, maybe a little bit more stuff like that is probably what we need, get things going here, get guys playing with a bit more passion, urgency."
Evander Kane and Justin Falk react to their heated exchange during today's #Sabres practice @WKBW pic.twitter.com/IjomRVj9xw

— Matthew Bové (@Matt_Bove) January 10, 2018
Rookie Sabres coach Phil Housley pointedly called out several players after Tuesday's loss, expressing disappointment in the team's continued lackluster effort and absence of emotion on home ice this season, where the team is a paltry 5-11-3. Asked of the Kane-Falk spat after practice, Housley noted: "It's good to see some emotion. It was a battle practice and tempers flared up. It was more the heat of the battle."
The incident occurred not long after Sabres defenseman Zach Bogosian had to be helped off the ice with an injury following a collision with the end boards, so it's easy to point out the Murphy's Law trend we've seen out of Buffalo lately. 
Bogosian slams hard into the wall, needs to be helped off the ice. Looked like he couldn't put any weight on his left leg #Sabres @WKBW pic.twitter.com/eDa2RWKJNd
— Matthew Bové (@Matt_Bove) January 10, 2018
Heat of the moment, sure, but that the altercation involved Kane is notable if only because of the winger's poor locker room reputation from his days in Winnipeg. Kane has rehabilitated his image some since his 2015 trade to Buffalo and is second on the team in points with 35 in 43 games, but those questions will always linger.