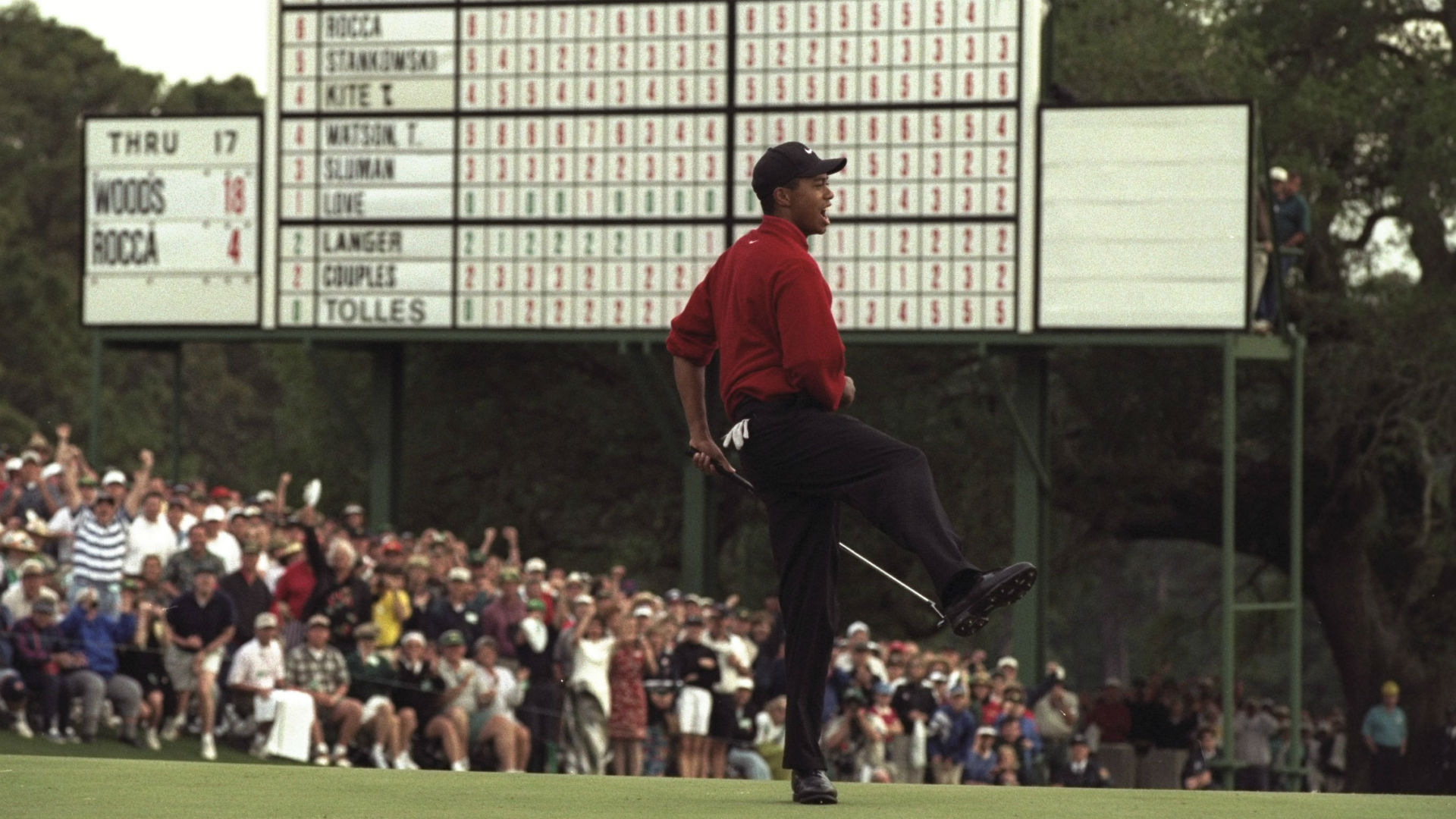 Tiger Woods is making another comeback this week at the Hero World Challenge, the same tournament he returned to last year before ultimately undergoing yet another back surgery after withdrawing from the Dubai Desert Classic in February.
It's been nearly 10 years since Woods last won a major championship (2008 U.S. Open). His prime was cut short by a combination of a scandalous divorce and tumultuous personal life mixed with knee and back injuries, but he's once again ready to return to competitive professional golf.
The game has gone through a dramatic transformation since Woods' dominant run. Instead of just a couple of big names, droves of young stars are sweeping the PGA and European Tours, making golf richer than ever in talent.
Woods, 41, hasn't won a tournament since 2013 (when he won five), and it may be unrealistic to expect him to contend right away, but his latest swing videos provided optimism that he may finally be here to stay.
Here are Tiger Woods' best golf achievements — to date:
1997 Masters win
It was hard to imagine a 21-year-old athlete dominating his sport — any sport — the way Woods did in 1997, highlighted by his 12-stroke Masters win. Woods earned his first of 14 major championship titles in style, making his classic Sunday red and black feared colors on the PGA Tour.
From the iconic hug with his father, to the backdrop of Augusta National's historic leaderboards showcasing Woods' name miles ahead of some golf legends, the 1997 Masters still stands as Woods' crowning achievement because it forever changed the game.
Woods still owns the record for greatest margin of victory at the Masters, and his four-round total (18 under par) has been matched only once, by Jordan Spieth in 2015.
2008 U.S. Open win
It was impossible to imagine at the time that Woods, basically playing on one leg after recent knee surgery and outdueling Rocco Mediate in an 18-hole playoff at Torrey Pines, likely had just won what could be his last (and 14th) major title. 
After the win, Woods immediately missed months with the knee problem and then saw his world rocked by his messy divorce from Elin Nordegren. But it still seemed like a matter of when, not if, Woods would catch Jack Nicklaus' record of 18 major wins.
Woods often faced off against unheralded players during majors. Sometimes, like this tournament and the 2000 PGA Championship against Bob May, it went in Woods' favor. But others, like the 2002 PGA Championship loss to Rich Beem and the 2009 PGA Championship loss to Y.E. Yang, must seem like thorns in his side. The mystery surrounding Woods' 2008 U.S. Open win makes it one of his most memorable of all time.
'The Tiger Slam'
If 1983 was the year of Michael Jackson, then 2000 was the year of Tiger Woods. Still only 24 years old, the young phenom was picking up major championship wins like a trick-or-treater collects candy on Halloween.
Starting with a 15-stroke win at the U.S. Open at Pebble Beach, Woods went on to win three majors in 2000. In order to claim a Grand Slam in golf, a player has to win all four majors in a given year. But Woods created his own slam by winning the 2001 Masters, earning four straight major titles.
What "the Tiger Slam" really showcased was Woods' ability to win on any style of course and by any amount of strokes. Some players get nervous when faced with large leads, slowly dropping back to the field. Woods, however, would smell blood and extend his lead to jaw-dropping margins.
2005 Ford Championship at Doral
Woods and rival Phil Mickelson rarely faced off in memorable duels, but Doral pitted the game's two most entertaining stars against each other in a thrilling showdown.
Woods went on to win by one shot with a late birdie on the 71st hole, while also breaking the tournament record at 24 under par. The win vaulted Woods back into the top spot in the world rankings, ending Vijay Singh's short reign.
While the tournament wasn't a major, nor was it even yet a World Golf Championship event, it marked one of the few times Woods and Mickelson went toe-to-toe.
2013's five-win season
Heading into the year, Woods already was facing criticism for dropping out of the top spot in the world rankings and for failing to win a major in four straight seasons. But at 37, he put together one of his best years on Tour with five wins and top-6 finishes in two majors.
He started with a win at the Farmers Insurance Open in January, which blossomed into back-to-back victories at the WGC-Cadillac Championship and the Arnold Palmer Invitational in March. After finishing T-4 at the Masters, he returned to win The Players Championship for a second time a month later. His most recent professional win was then collected a of couple months later at the WGC-Bridgestone Invitational.
Though Woods' career was always measured by majors — by himself, the media and fans — and he didn't collect one in 2013, the year should still go down as one of Woods' greatest triumphs.